Best of the Hacienda Pinilla Rentals
When you're looking to stay in Hacienda Pinilla rentals, stay in the best, the #1 rated luxury villa in the world, Pura Vida House
Hacienda Pinilla rentals are your best option for a vacation in Hacienda Pinilla. You have the privacy you want with the convenience of resort amenities just a short jaunt through a nature and wildlife-filled hacienda.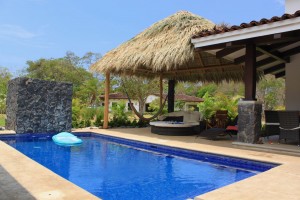 And when choosing which Hacienda Pinilla rental you want, choose the villa that is ranked by TripAdvisor as the #1 high-end villa in the WORLD! We were selected for this honor based on the high-end villa, with luxury bathrooms, tropical outdoor shower, private pool, covered terrace and more notably, the most personalized service and communication before, during and after your stay.
We, Jorge and Stephanie, manage our villa ourselves. No matter how great a management company is, when you manage multiple Hacienda Pinilla rentals, or any vacation rentals, no matter how great you are, you can't service one family or group in a villa 24 hours a day. We can and do.
From helping you plan flights, in-country transportation, activities, restaurant recommendations or even tips on off the beaten path tourist traps, we share our local knowledge and take all of the work and guess work out of your vacation planning — all included in your rental rate! NO other Hacienda Pinilla rental, or vacation rental in the Tamarindo area can offer that.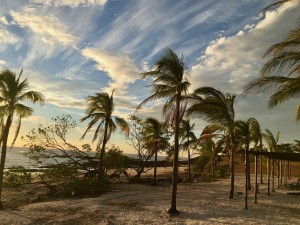 Want to snorkel? We can tell you a secret spot, and the right time of day to go, right inside our resort, that not even the staff at the JW Marriott know to tell their guests. Other Hacienda Pinilla rentals can't help you with this either.
Want FREE and unlimited access to the Hacienda Pinilla Beach Club? We are the ONLY villa in Hacienda Pinilla that offers that. No entrance fee, ever. No matter how many are in your group, and how many times you go, we have you covered.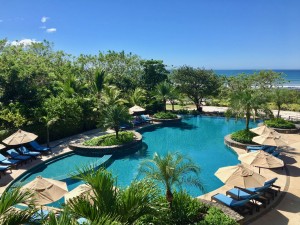 And Pura Vida House offers you all of the in-villa amenities you need to make packing easy. We provide high-end linens and towels, higher quality than most hotels, as well as beach/pool towels so you don't need to pack your own. We provide high-end Costa Rican handmade organic shampoo, conditioner and soap, as well as hair dryers, in every room.
Continue browsing through our website at our reviews, photos of the villa and overview of the resort to see why we are the best in the world, including all of the Hacienda Pinilla rentals.