Golf at the Beautiful JW Marriott Costa Rica Golf Course
When you're coming to play at the JW Marriott Costa Rica golf course at Hacienda Pinilla, consider staying at our Pura Vida House.  We're steps away from the course as well as the JW Marriott, which is actually inside Hacienda Pinilla!
Our award winning Costa Rica beach villa has everything you need to enjoy your golf rounds at the JW Marriott Costa Rica golf club, and all of your down time … gourmet meals prepared by our chef, golf carts for use within the resort, private Liberia International Airport (LIR) transfers, masseuses that come to the villa, spacious luxury rooms, private swimming pool, and we're also the only villa in Hacienda Pinilla that has free/unlimited access to the Hacienda Pinilla Beach Club!
And if you feel adventurous and want to try some tours and excursions in Guanacaste, there's more than plenty to do!  Some of our guest favorites are snorkeling, zip lines, scuba diving, hiking, mountain biking, visiting the Rio Celeste rainforest, giant turtle night excursion, surf lessons, tennis, pickleball, horseback riding, enjoying hot springs and outdoor spas, ATV's, attending typical Costa Rican rodeos and festivals, fishing, repelling, hanging bridges, volcanic mud baths, and more!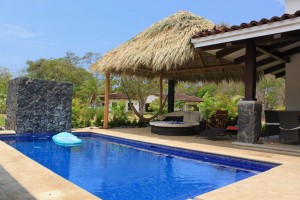 The JW Marriott Costa Rica golf course is a links-style course, with many fun holes.  Our favorites are holes 14 and 15, both are ocean holes and simply spectacular.  On hole 15, the famous "Shark Hole", make sure you bring your phone/camera when you walk up to the green, those are photos that you'll want to keep from your golf in Costa Rica.
The Hacienda Pinilla golf course is also very relaxed, there is no starter and the staff is very friendly.  You just show up and play!  The practice facility is very nice, spacious, and has everything you need to hopefully shoot well.
At the JW Marriott Costa Rica golf course in Guanacaste, you will feel like family when you stay with us at Pura Vida House, we know the staff very well, just tell them that you're staying at Pura Vida House and they will treat you well!  Plus, all our guests enjoy a 50% discount on greens fees at the Hacienda Pinilla Golf Course!
We'd be honored to host you for a very fun Costa Rica golf trip!!!
Pura Vida House Costa Rica – www.PuraVidaHouse.com