Pickleball Clinics in Costa Rica | Pura Vida House Villa
We specialize in pickleball clinics in Costa Rica as part of your vacation, as well as general vacations at our Pura Vida House villa. We are in Hacienda Pinilla Beach Resort, one of the best resorts in Latin America, with activities for everyone.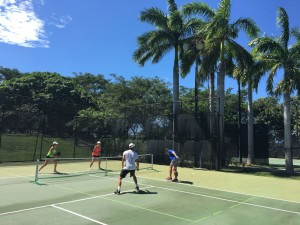 If you stay with us in Costa Rica for and come for one of our pickleball clinics/vacation packages, yes you play a lot of pickleball (of course!), but we also like to arrange for our guests many fun activities and tours that are our personal favorites in Costa Rica. For example, seeing sloths in the wild in the Costa Rican rainforest will be unforgettable. Add to that having a chance to view up close the famous and stunning poison dart frog, while seeing the Rio Celeste neon blue waterfalls and lagoons … magic!
Pickleball clinics / vacation packages include lodging at our high-end luxury villa in a top resort in Central America! Packages include meals prepared by a top chef at the villa, top pickleball instruction and open play, airport transfers, golf carts for use in the resort, access to the exclusive Hacienda Pinilla Beach Club, and the most personalized hosts to help you make the most of your vacation in Costa Rica without having to lift a finger (off the pickleball court, that is!)
More extracurricular activities are available, including snorkeling at our Mansita Beach at low tide in the morning, to explore the many wonders that inhabit the ocean, you'll be sure to see rays, lobsters the size of 2 baseball gloves side by side, thousands of rainbow runners, and dozens of other types of colorful fish, among other things.
Steps away from our villa, you can also enjoy a serene horseback ride in the jungle, seeing lots of monkeys and species of birds along the way, and finishing the ride on a desolate white-sand beach watching the sun go down. Tranquility at its best!
There are also swimmable waterfalls you can visit to refresh yourself in after a long pickleball clinic, and we arrange for our masseuses to come and pamper everyone by the beach or under our palapa with a 1-hour massage to get you ready for next day's pickleball play!
There are many opportunities to explore the local culture, attending festivals and rodeos, sampling healthy and delicious food at the local "Soda's". We do our best to offer epic pickleball trips in Costa Rica that include a little bit of everything!
We sure hope you can come stay with us in Costa Rica for one of our pickleball clinics for your Costa Rica vacation, at one of the best pickleball resorts in Latin America!
We would be honored to host you and your group of friends or family at our Pura Vida House in Costa Rica, we promise to do everything we can before you arrive and while you are here to make your pickleball trip an unforgettable one!
Pura Vida pickleball, so long from Costa Rica!!!
Mani & Sindy