Pickleball Clinics in Costa Rica with Pura Vida House
If you're looking for the one of the best and most affordable pickleball clinics in the world, you've come to the right place!  Pura Vida House has been ho sting for a few years now hundreds of pickleball players and coaches from around the world at our villa and resort in Costa Rica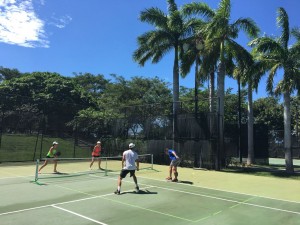 If you're looking for the one of the best and most affordable pickleball clinics in the world, you've come to the right place!  Pura Vida House has been hosting for a few years now hundreds of pickleball players and coaches from around the world at our villa and resort in Costa Rica
We're so excited for this upcoming pickleball season with over 3 months of solid booked weeks, including groups coming with top world coaches and players Prem Carnot "The Pickleball Guru" and Brian Ashworth, a top 10 world pickleball player.
Our all-inclusive pickleball clinics are always a blast; always small weekly groups and they include daily pickleball instruction in the mornings (and evenings if anyone wants to play more, as our courts are lighted!) with either top world coaches or our resort pros, 7-night luxury accommodations at our Pura Vida House beach villa – the top ranked luxury villa in the world on TripAdvisor, gourmet breakfasts and dinners prepared by our international chef at the villa, LIR Airport private transfers, 24/7 use of complimentary golf carts in the resort, 24/7 concierge services, and free and unlimited use of the exclusive Hacienda Pinilla Beach Club!  All this at an amazingly low price, starting at just $1,150/person!!!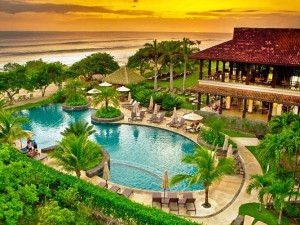 Oh, and if someone plays golf, our guests enjoy an exclusive 50% discount at the Hacienda Pinilla Golf Club, just steps away from our villa!
But pickleball is not the only activity you will be doing while in Costa Rica.  You can relax at the beach as much as you wish (there's 3 gorgeous private white-sand beaches inside our resort!), or try out many of the activities that our resort has to offer and around us – such as yoga, bird watching, mountain biking, hiking, visiting volcanoes and hot springs, volcanic spas, going to waterfalls, horseback riding, zip lines, kayaking, snorkeling and scuba/snuba diving, biodiversity boat rides, night giant turtle excursion, visiting the magical rainforest, attending local rodeos and festivals, ATV's, white water rafting, repelling, hanging bridges, tubing, and much more!
If you want to pamper yourself, the resort has 2 great spas, and our masseuses come to the villa anytime you want and will give you a world-class massage!  Always great, especially after hours of playing pickleball with the group and instructors!
We would be very honored to host you and your friends in Costa Rica for fun pickleball clinics, please contact us anytime if you have any questions at all, you can text or call us at 614-600-1904, we're here to help at all times!!!
Book your dream pickleball trip today! Group options available!
Warmest regards from the Golden Coast,
Mani & Sindy
Costa Rica Rental Property & Retreats
Pura Vida House Luxury Beach Villa, Costa Rica – www.PuraVidaHouse.com