Why Pickleball in Costa Rica?
Why is playing pickleball in Costa Rica at Pura Vida House, so special? You can play pickleball anywhere, but the memorable experience you'll make down here will stay with you forever.
Playing pickleball in Costa Rica at Pura Vida House is an amazing experience for so many reasons!  First of all, you'll have the chance to play pickleball, and afterwards walk or ride your golf cart a few minutes to a beautiful white sand beach to relax.  This part of Costa Rica offers numerous gorgeous beaches, but our resort in particular – Hacienda Pinilla – there are 3 nearly private beaches located less than a mile from our 2 courts.
If you prefer the pool versus the ocean, well you have a world class Beach Club at your disposal.  They have a 160-foot long swimming pool right on the beach, infinity style so you don't miss watching the waves and surfers.  There's a state of the art gym, spa, restaurant and a fun tiki bar.  Food at the restaurant is delicious, prepared by Antonio, our chef extraordinaire from Brazil.  There's also a kids play area, and kids pool for the little ones to enjoy.  And even a soccer field and a beach volleyball court to play at!  Your stay at Pura Vida House includes full membership at the Hacienda Pinilla Beach Club, we're the only villa at Hacienda Pinilla that offers this benefit to all our guests.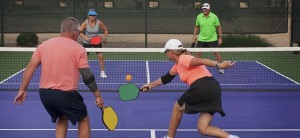 Our courts have great lights!
If you prefer the sun, you can play anytime of day.
But if you prefer to play when it's mid to upper 70's at night, our 2 courts at Hacienda Pinilla have terrific lights, so pickleball fanatics can play 24/7!
The biodiversity makes playing on our courts memorable.
Imagine playing pickleball literally being surrounded by howler monkeys, tamandua anteaters, parrots, iguanas, parakeets, trogons, and many other types of colorful birds.
We're not joking, if you play pickleball at our courts in Hacienda Pinilla, you will see and hear all those animals and more.
It's like playing in the Rainforest Café, but everything is very real!
Safe.  Our area in general is very safe and tranquil, and when you stay at Pura Vida House and playing pickleball at our courts at Hacienda Pinilla, you will always feel safe, as we're located in a gated community that's a perfect mix between nature and luxury. 
Although, the very best part of playing pickleball in Costa Rica, or any other activity for that matter, is the friendliness of Costa Ricans, and good customer service culture in the entire country.
You will always be greeted by a big smile, and the willingness of Costa Ricans to help you out with anything you need!
A pura vida place indeed!
Come play pickleball in Costa Rica, and stay at our Pura Vida House in Hacienda Pinilla, and we promise you that you will not regret it, we'll do everything we can to make your trip a memorable one, we'd be honored to host you!!!! 
:-)
Book your dream pickleball trip today! Group options available!
Warmest regards from the Golden Coast,
Mani & Sindy
Costa Rica Rental Property & Retreats
Pura Vida House Luxury Beach Villa, Costa Rica – www.PuraVidaHouse.com