The Rules of Pickleball 
I bet you thought that judging by the title of this post, it would be about pickleball rules – the rules of pickleball. But we actually want to share a bit about the many ways in which pickleball RULES!!
We host many pickleball players in Costa Rica for fun pickleball vacations and pickleball camps, so we know first hand how fun this sport is, and how fast it's growing – and we really think that pickleball rules!
Pickleball is the fastest growing sport in the US and one of the fastest growing sports in the world.  And it's no surprise, all you have to do is play pickleball once or twice and you'll probably be hooked!
Pickleball rules for many reasons.
Pickleball is a very fun way to work out.  You'll get your daily exercise in a way that's 1,000 times more fun than a gym treadmill! Research is now coming out that "sitting is the new smoking;" or rather not moving around most of the day is actually more harmful to your health than smoking, so pickleball is a great way to keep moving for hours on end!
Pickleball is a social sport.  You can't play it alone, so most probably you'll be playing with at least 3 of your friends.  The fact that it's a social sport means that it will have great benefits to your mental health (besides all the benefits to your physical health!).  Studies show that the more we interact with friends, and do social activities, the more chances we'll have of living a long and happy life!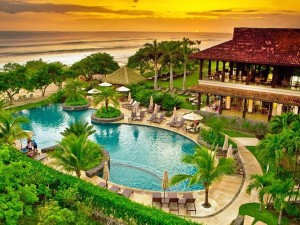 Pickleball is a sport that can be learned quickly. Though it takes years to master, you can learn the basics of the game and get going very quickly, and you can have fun at all levels of play! By the time you play 4-5 times, even if you have never played any other paddle or racquet sports like tennis, squash, racquetball, ping pong or badminton, you'll have a pretty good idea of what you're doing out there, and will be able to have decent rallies with similar level pickleball playing partners.
And now you can even travel and play pickleball … pickleball tourism!  There are many good options out there for pickleball vacations and pickleball trips, and we are one of them!  There are large pickleball trips to all-inclusive resorts, mid-size trips on cruises, and we offer small group luxury pickleball vacations in Costa Rica every week at our beach resort villa!
Each week for us is so fun as we get to meet lots of cool pickleball players from all over that share their story with us on how pickleball is changing their lives for the better!
Our luxury pickleball trips are very personalized, only 8-12 players every week, very affordable (starting at $1,150 per person), and offering lots of benefits that are included in the all inclusive weekly rate.
We'd love/be honored to host you and your pickleball friends in Costa Rica at our villa and resort, and have a chance to make it the most memorable vacation of your life!
Book your dream pickleball trip today! Group options available!
Warmest regards from the Golden Coast,
Mani & Sindy
Costa Rica Rental Property & Retreats
Pura Vida House Luxury Beach Villa, Costa Rica – www.PuraVidaHouse.com