Pickleball Vacations and Clinics in Costa Rica
The best pickleball vacations offer plenty of play, clinics with top US players, and of course, fun in the sun in a tropical paradise while your friends and family are stuck back in the cold, cold North.
What would ideal pickleball vacations look like to you? Would they be located in a warm, tropical climate; would they be in a resort with additional amenities to entertain and relax you during your stay? Would your ideal pickleball vacation include catered food at a luxury villa at the edge of some of Latin America's best beaches?
Pickleball vacations at Pura Vida House, in Guanacaste, Costa Rica offer you these things and more. Plenty of pickleball instruction and play, luxury accommodations and activities, and plenty of adventure and exploration for those who would like to learn more about and explore the beautiful country of Costa Rica
As long-time avid tennis players, we've come across the sport of pickleball in recent years. It it such a fun and social sport, and through the last few years, we have seen how pickleball has been winning the hearts of many tennis players.  It's no surprise!  We have seen this shift very closely at our Costa Rican villa, where more and more, we are hosting pickleball players and instructors.
Our villa is steps away from private pickleball courts, the courts are beautiful, in great shape and surrounded by palm trees.  They offer the convenience of lights, in case our pickleball groups want to do evening pickleball socials, mixing exercise with a little wine or cocktails, nothing wrong with that! And don't be surprised when packs of howler monkeys start cheering you on while you play, they come to the courts often!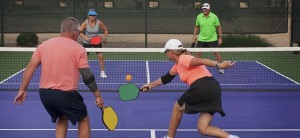 We also offer our pickleball groups the convenience of golf carts, so the courts are a few minute ride away, and players can come and go from the courts as they wish.  We find that some of our pickleball groups play up to 3 or 4 times per day, so the carts come in handy.
It's not all pickleball in our vacations though.  We offer our groups lots of other tours and excursions available around our resort/villa, and our drivers/guides/naturalists offer door to door service for all activities, making it very convenient for everyone.  After all, you can't come to Costa Rica and not see waterfalls, the rainforest, snorkel, volcanic mud baths, volcanoes, hot springs, sloths, toucans, poison dart frogs, and lots of other things that make Costa Rica a very unique destination.
To all pickleball players, please contact us, and we'll send you all the information you need to go on the pickleball vacation of your life!  Call us at 614.600.1904 (US Phone), or e-mail us at info@ThePuraVidaHouse.com.  We usually respond within a few hours.
Thanks so much!!