Recipe for Authentic Pineapple Ice Cream Sundae 
We have a great Costa Rican way for you to cool down this summer; a pineapple ice cream sundae!
Here's the simple recipe to build your own pineapple ice cream sundae. We think this is a great and tropical way to cool you down this summer, inspired by Costa Rica's golden fruit, the pineapple!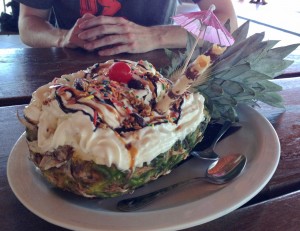 Recipe: Pineapple Ice Cream Sundae
– Find the freshest, sweetest golden pineapple available
– Leave the top on, and slice pineapple lengthwise
– Hollow out the fruit of the pineapple and set aside, removing the tougher core pieces
– Scoop any flavor(s) ice cream into the hollowed out pineapple
– Top with pineapple pieces, and other fruit (banana, strawberry, etc.)
– Top with whip cream and sprinkles
– Grab a friend and enjoy, it's more fun to share!