Best Yoga Camps in Costa Rica
Yoga camps in Costa Rica at Pura Vida House, Hacienda Pinilla are a great mix of yoga, beaches, adventure and enjoying the best of Costa Rica.
If you're looking for yoga camps in Costa Rica, consider staying at Pura Vida House! We offer fun and personalized yoga camps in Costa Rica at our luxury beach villa in Hacienda Pinilla.
Learn more about our Costa Rica yoga trips: www.thepuravidahouse.com/yoga-costa-rica
Relax at one of the resort's 3 private white-sand beaches, or have your daily morning yoga session right next to our private pool, under the ranch.  Start your day with a healthy organic breakfast right after your morning yoga session, and then be ready to explore everything that Hacienda Pinilla Resort has to offer, or nature activities outside the resort with our fun bilingual guides, drivers, and naturalists!  A yoga week that has everything!
Our yoga camps in Costa Rica are a sensory experience, imagine doing yoga at your own luxury villa surrounded by lots of plant and animal biodiversity, howler monkeys and iguanas, lush vegetation, palm trees … everything will blend in to make your yoga week in Costa Rica unforgettable.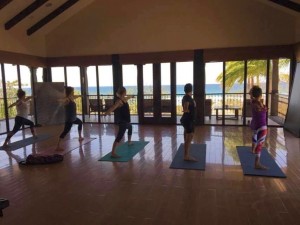 Our chef will prepare delicious healthy meals at the villa, making the week complete with mind and body aligning to obtain a holistic healthy experience.  And to top it off, our masseuses will be offering massages at the villa, to take any leftover stress away – if you have any left, that is!
Many of our groups like to do surf and yoga camps in Costa Rica, combining yoga in the morning, and then fun surf lessons afterwards.  Our resort beaches and nearby Tamarindo Beach have some of the best beginner and advanced surf breaks in Latin America, so easy to catch a wave no matter what your surf level is!
In case you wish to switch it up and try your yoga class at a different location, our resort yoga studio in Costa Rica is state of the art, air conditioned, and with a panoramic view of the Pacific Ocean, simply amazing.  For a virtual tour of our Beach Club yoga studio, click here: www.thepuravidahouse.com/yoga-costa-rica
We sure hope, and would be honored, to host you and your group of yogis for one of our magical yoga camps in Costa Rica at Hacienda Pinilla, we will do everything we can to make your week special, not only offering great yoga classes and unique nature-related activities, but also showing you cultural experiences, so you get a good taste of what Costa Rica is all about!  Leaving you with the "pura vida" state of mind :-)
Book Your Dream Yoga Camp in Costa Rica 
Book your yoga vacation to Costa Rica today!
Warmest regards from the Golden Coast,
Mani & Sindy
Costa Rica Rental Property & Retreats
Pura Vida House Luxury Beach Villa, Costa Rica – www.PuraVidaHouse.com