Where to Do Yoga in Costa Rica
Many people come to practice yoga in Costa Rica, as it is a top vacation destination with its warm climate, gorgeous beaches, and happy disposition
The best yoga in Costa Rica as part of your vacation is at Pura Vida House in Hacienda Pinilla.
Why? We have many instructors available to teach on site, and many types of locations within the resort – on the beach, in an air conditioned studio overlooking the Pacific and royal palms, and in an open air platform in a gated neighborhood – a great location for everyone's interest!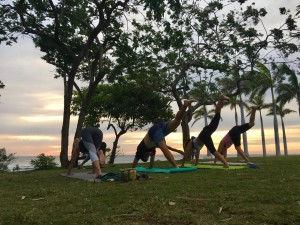 One great reason to take your vacation to, and practice yoga in Costa Rica is the amazing sights, nature and atmosphere of this beautiful country.
Not only will you be able to have the relaxing and nature-filled atmosphere add to your zen experiences, but you'll do so in a nature-filled resort, with three white sand beaches, howler monkeys playing in the trees, parrots chirping over head, and all of the hospitality and local knowledge that you can only receive at Pura Vida House.
Costa Rica is also the happiest country on Earth and a world Blue Zone, where people live the longest and happiest. There are only 5 Blue Zones in the world.  Our villa and resort are located in the middle of the Blue Zone, and you can definitely see people's warmth and positive energy as soon as you land down here, everyone has a big smile on their faces, and will be ready to assist you with anything you need and show you what the magical Costa Rican culture is all about!
Pura Vida House trips are your best bet for a great overall experience, and yoga in Costa Rica. Great and upbeat instructors are available for all types of practices, depending on your taste in style – hatha, yogalates, trapeze, etc. – as well as the best beaches, hospitality, luxurious accommodations, and local knowledge you can get in the country. We specialize in taking the care and detail required to ensure we provide you the best vacations to Costa Rica.
Yoga Vacations at Pura Vida House
Book Your Dream Yoga Vacation
For more info on vacations and yoga in Costa Rica, at Pura Vida House please call or text us at 614-600-1904 or email us at info@thepuravidahouse.com. See HERE for our Yoga Page
We'd be honored to host you at our beach villa in Costa Rica!