Experiential Travel Journeys
What is Experiential Travel and why are we providing this type of experience but with a touch of luxury here at Pura Vida House in Costa Rica?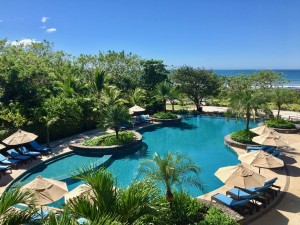 Experiential travel, and even Luxury travel, is about the experience, not just the appearance. Here at Pura Vida House in Costa Rica we provide our guests with luxury accommodations, but also with typical experiences that they will remember for a lifetime. One can book luxury accommodations anywhere in the world, but fewer can say that they had a chance to interact with locals; feel and see first-hand what their life is like, eat local foods at popular local spots, and really immerse themselves in the local culture, going to local rodeos and festivities, parades, and seeing local towns.
Our guests stay at our villa in a 5-star resort, but we also try to provide them with all the knowledge needed, and directions, to local hangouts. The exact definitely of experiential travel. And for those who come the half of year that we live in Costa Rica, we'll many times take them ourselves outside the resort, so they can experience the real Costa Rica, while still having all the comforts of back home in our resort.
Our resort, Hacienda Pinilla, is very special because it does not feel like a resort. It's the perfect harmony between nature and luxury. It boasts 4,600 acres of pure nature, trails, jungle, white-sand beaches with few people, and first-class amenities like the Beach Club, several pools, equestrian center, golf club and 18-hole ocean course, market, chapel and more.
At Hacienda Pinilla you never feel crowded, and the best part of the resort are the people who work there, they will always be smiling and ready to fill you in on what's happening in the area.
If you come from November through April, much of the local talk centers around the rodeos. Exactly what's not on most visitor's radars, but every local's. Experiential travel! Every week, from Thursday through Sunday, a different small town in Guanacaste hosts a typical Costa Rican rodeo. It consists of crowds of locals cheering for their favorite bull rider, and once the rider falls to the ground, locals (or pretty much anyone!) play chicken with the bull for a few minutes at a time in the ring … needless to say, this creates some funny situations, at times, even dangerous.
All of this is surrounded by a fair, with carousels, food stands, and music … oh, the music, we've never stayed late, but after the bulls are done at around 10pm, a popular Guanacaste band will play all night long, with hundreds of Costa Ricans attending to dance along until five in the morning. We're too old to stay up that late!
Experiential travel doesn't mean you have to rough it. It can marry luxury accommodations with local experiences during people's travels. This is definitely our focus at Pura Vida House, offering comfort and safety at every level, 5-star amenities, all while enriching lives with local experiences and interactions that guests will never forget. After all, the more we can expand our horizons, the more we enrich our own lives, and that of others.
Looking for Experiential Travel Options?
Book your dream experiential trip today! Group options available!
Warmest regards from the Golden Coast,
Mani & Sindy
Costa Rica Rental Property & Retreats
Pura Vida House Luxury Beach Villa, Costa Rica – www.PuraVidaHouse.com
COVID-19 UPDATE: Seeking a Getaway to the Golden Coast? Starting in September, Costa Rica is re-opening its borders to several US states. Click here to see if your state is included!