More and more often, people are choosing active vacations over relaxing vacations. Traditionally, active vacations were sport-specific, primarily focusing on hiking, cycling, and skiing, or watersports such as scuba diving and surfing. These types of vacationers tended to forego creature comforts in pursuit of their preferred sport, but a new type of vacationer has emerged in recent years. Meet the pickleballers! They fuse fun, relaxation, and activity all into one fabulous vacation, choosing all inclusive pickleball vacations at resorts in beautiful locations all while getting out and about to explore. This type of multifaceted vacation allows people to not only work on their physical fitness, but also their mental, emotional, and social well-being.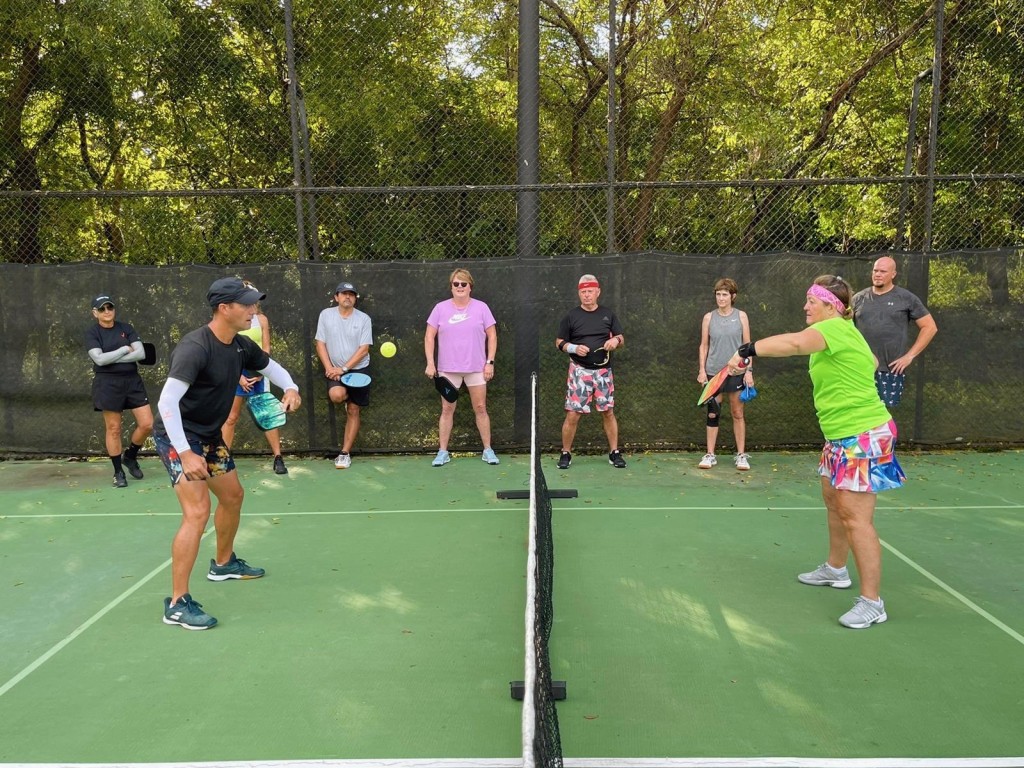 Physical Benefits of Pickleball
While the sport is most popular with those aged 55 and up, pickleball is fun and beneficial for all ages. It combines the elements of tennis, badminton, and ping pong all in one, providing a high aerobic exercise without the same stress and strain on muscles as other racketball sports. While you will not move as much playing pickleball as you would tennis, due to its smaller court size, the caloric burn is similar. In fact, you can burn up to 40 percent more calories playing pickleball than by simply walking. The smaller court size means less running and therefore less wear and tear on your joints, such as knees, hips, and ankles. If you have problems with these joints, but still want to play a social and active racketball sport, then pickleball is a very good option.
Pickleball rackets are short and solid with no strings, making them low-intensity instruments that put minimal stress on the muscles and tendons of the arms. Adding to the fact that serving in pickleball is underhand, as opposed to the overhand throwing motion of the tennis serve, makes the game easier to play than tennis. Pickleball is easier on an older body because the pickleball is softer and moves much slower than a tennis ball.
Pickleball moves the entire body, improving flexibility, which can help prevent serious conditions like arthritis. To remain flexible, joints must be exercised and moved regularly.
Finally, playing pickleball will help to improve your hand-eye coordination, which is very important to maintain as we age, since it is required for most daily activities like driving and preparing food. Pickleball will also help maintain your balance, which is essential to help avoid falls.
Mental/Emotional Benefits of Pickleball
Playing pickleball is good for your mental health. Getting your heart pumping will not only help your blood pressure levels but also your mood. This is because our bodies react to physical activity by releasing feel-good hormones and endorphins, staving off anxiety and depression, which tends to become a higher risk factor as we age. In addition to improving your physical fitness, playing pickleball is fun, and studies show that partaking in enjoyable activities improves your mental health, which plays an important role in your overall health.
Running around on the pickleball court gets your heart pumping, boosting blood flow to all muscles and organs, including the brain. This increases the supply of oxygen and nutrients to your brain. The benefits of this include better decision-making ability and short-term memory.
An added benefit of playing a sport like pickleball is getting in shape. Losing extra pounds and gaining muscle mass will improve your confidence, making it easier to don that bathing suit during your pickleball getaway in Costa Rica!
Check out our all inclusive pickleball vacations in Costa Rica!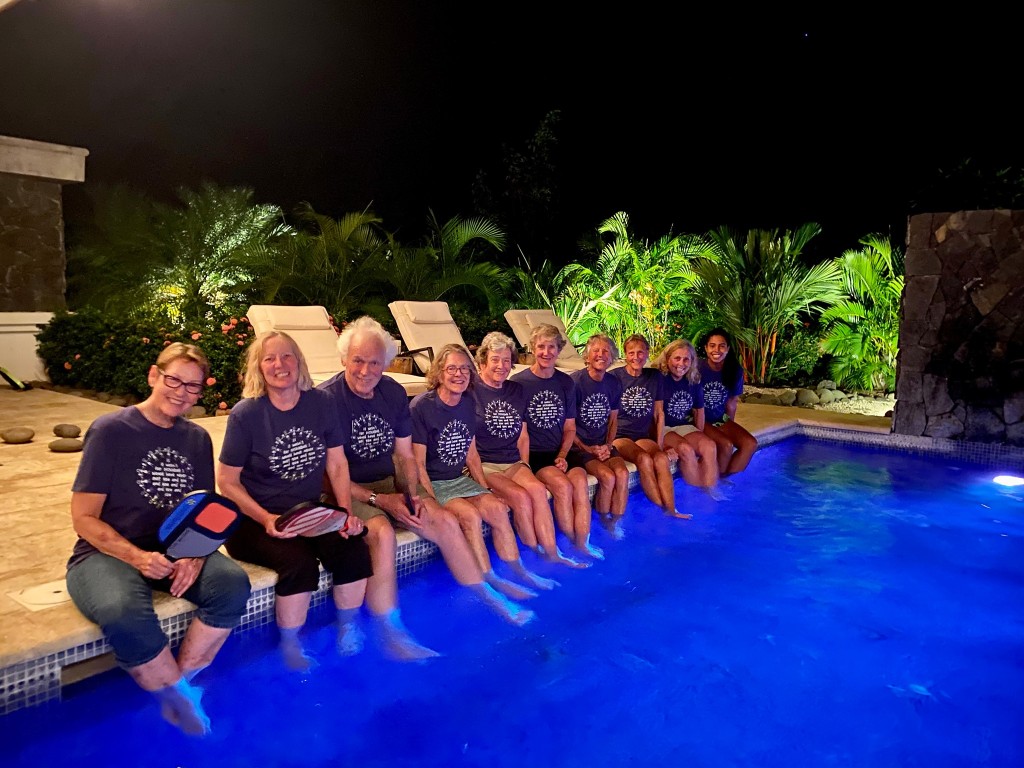 Social Benefits of Pickleball
One of the biggest attractions of playing pickleball is the social aspect. Playing with one opponent in singles, or two as doubles, allows players to interact with each other and enjoy the exercise as a team. Team sports like pickleball helps people to make friendships and bond over their common interest and goals. There is nothing like a little competition over a friendly game to bring people together.
When playing pickleball doubles, you must work together with your teammate. This not only helps to promote a connection between you and your partner, but it may also lead to friendships off the court.  As many know, it can be difficult to build new relationships as we get older. Finding a common bond like pickleball helps to combat the loneliness that often comes with age. Joining a league gives you a sense of community.
A pickleball getaway in Costa Rica will help to strengthen your bond with your partner and other players by taking you out of your comfort zone. You'll be playing on a new court, playing with some locals and expats from the area, exploring the area of Tamarindo Costa Rica, eating meals together, and staying together at our all inclusive vacation rental.
An all inclusive pickleball vacation at Pura Vida House means seven nights of luxury accommodation in our 4-6 room villas, which includes 2.5 hours of daily instruction on lighted pickleball courts, two meals a day, two mountain bikes for the property's 20 miles of trails, and access to two golf carts to get around the resort. Our guests also enjoy exclusive Beach Club membership at Hacienda Pinilla, which includes two bars, a restaurant, a gym, and a 160-foot oceanfront infinity pool. From the Beach Club, you will have easy access to three pristine beaches. Our guests also have access to the JW Marriott's restaurants and bars.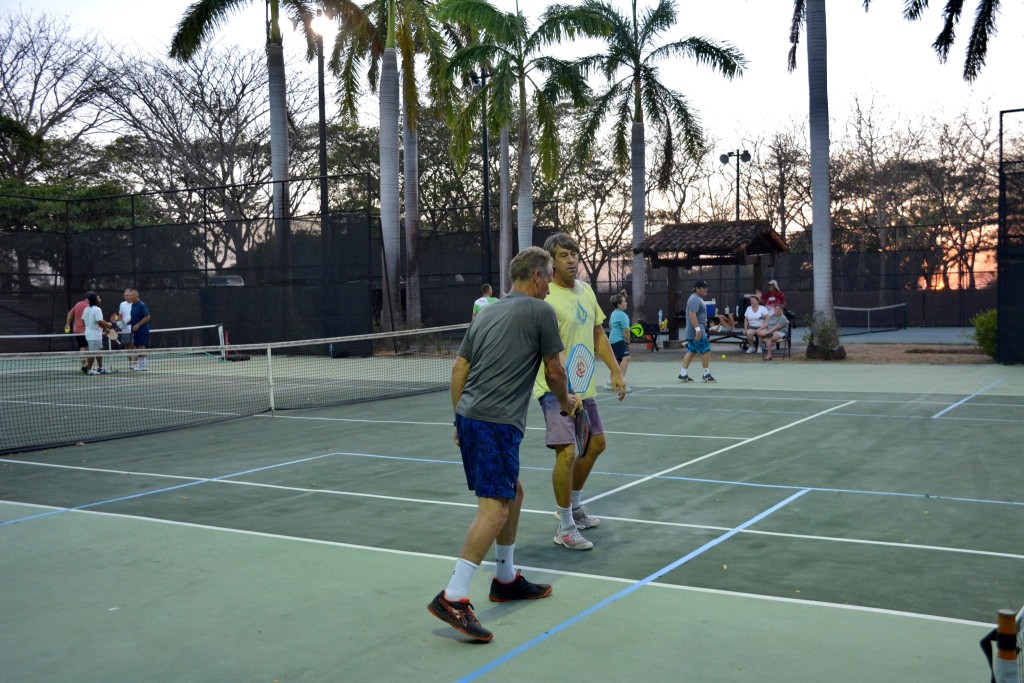 Our all inclusive pickleball vacations also include our 24-hour concierge services. Want to plan an outing or excursion? Let us figure out all the details. Need an in-house massage or yoga lesson after a day of play out on the courts? We got you!
Whether you want to take an active vacation for your health, or just for fun, Pura Vida House strives to ensure we are the best and most personalized pickleball getaway in Costa Rica. With access to the resort and Hacienda Pinilla Beach Club, 24/7 concierge services, personal golf cart access, shuttle services, and meals prepared by our private chefs, you'll see why we have over 400 5-star reviews!
Please contact us with any questions you have if you are considering staying in Tamarindo Beach Costa Rica. We are available at (614) 600-1904 or info@thepuravidahouse.com. We look forward to hearing from you soon!
Blog by: Jennifer LaCharite – Costa Consultants, International