How Our Sports Groups' history at Pura Vida House has changed
Historically for many years we used to get mostly tennis groups coming from the US staying at our villa, for a week-long tennis camp. I was the instructor for daily tennis lessons and drills, and some weeks we would bring in a Pro as well, when the group was bigger than 8 players, to assist with the lessons.
In the past year though, our tennis camps have been outnumbered by pickleball camps. The amount of inquiries we receive from players wanting to come to Costa Rica for a vacation while enrolling in a pickleball camp is growing quite a bit. It helps that our resort has 2 lighted pickleball courts, and has a fun 5.0 pickleball Pro on site (she's also a heck of a tennis player!).
Something similar between tennis groups and pickleball groups that stay with us is that both are extremely committed and passionate about their respective sports. This is wonderful to see because when you feel passionate about a sport, it makes your life better, not only physically, but also mentally. It connects us with other people, we get to socialize and compete, have fun and play games, just like when we were little kids playing our favorite activity!
I assume that the demand for pickleball camps is not only growing here in Costa Rica, but also in many other places in the world, which is great!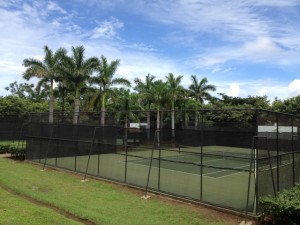 When someone comes for a pickleball or tennis vacation or camp to our Pura Vida House, we can promise of course lots of daily pickleball and/or tennis, and also warm hospitality and a 5-star resort full of activities and amenities, with 3 wonderful private white-sand beaches and Beach Club. And mainly, an experiential luxury travel experience – a luxury vacation while also getting to experience the local culture! After all, what's the point of going to a different country if you're not going to try out the local food and know how locals live and enjoy life, especially if it's in Costa Rica, home of one of 5 Blue Zones in the world (our villa is in the smack middle of the Blue Zone!), and the happiest country on Earth!
Stay tuned for our exciting tennis and pickleball camps coming up, with world-class tennis and pickleball Pro's such as Alison Riske, Lauren Davis, Kyle Yates, and Brian Ashworth.
Warmest regards from the Golden Coast,
Mani & Sindy
Costa Rica Rental Property & Retreats
Pura Vida House Luxury Beach Villa, Costa Rica – www.PuraVidaHouse.com
COVID-19 UPDATE: Seeking a Getaway to the Golden Coast? Starting in September, Costa Rica is re-opening its borders to several US states. Click here to see if your state is included!