Pickleball Trips at Pura Vida House | High-End Private Villa
The best pickleball trips are at Pura Vida House at Hacienda Pinilla Resort in Costa Rica, a high-end villa in Guanacaste.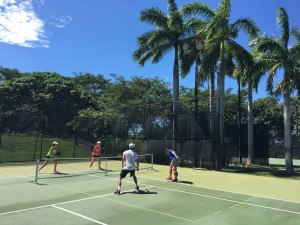 The best pickleball trips are at Pura Vida House at Hacienda Pinilla Resort in Costa Rica.  We used to get mostly tennis trips at our villa, and about a year ago, the tide turned and now it's mostly pickleball!
Our weekly pickleball trips are a blast, we host small groups of between 8-12 players, of all skill levels, that will play daily pickleball in the mornings, with great instruction and drills.  And then afterwards everyone enjoys all the amenities that the resort has to offer steps away from our villa and the courts, such as 3 private white-sand beaches, championship 18-hole golf course, tennis courts, 30 miles of mountain biking, running and hiking trails, equestrian center, 12 restaurants and bars, JW Marriott Guanacaste, mini market, chapel, and more!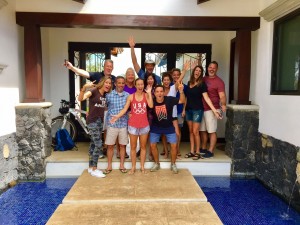 And most importantly, you'll be surrounded by endless animal and plant biodiversity! It's common to see and hear howler monkeys while playing pickleball on our lighted courts, you'll also see throughout the day iguanas, anteaters, parrots, parakeets (and other colorful birds!), deer and other animals.  A magical experience for sure!
Our personal villa chef will be preparing delicious breakfasts and dinners for you to enjoy in the comfort of our outside terrace, pool side!
You'll also enjoy private Liberia International Airport transfers with our bilingual drivers, and unlimited use of golf carts during the entire trip.
And to top it all off, you will have complimentary concierge services, and our villa is the only villa in all of Hacienda Pinilla that has free and unlimited access to the exclusive Hacienda Pinilla Beach Club, due to our corporate membership.
We sure hope we have the opportunity to host you on a pickleball trip or pickleball vacation at our Pura Vida House luxury beach villa, it would be an honor for us!
Warm regards from the Golden Coast
-Mani & Sindy