Dream Pickleball Camp with Prem Carnot, The Pickleball Guru
Imagine this – for 7 nights, you and only 7 other pickleball players are with Prem Carnot in Costa Rica for a pickleball camp with the best pickleball coach in the world!
You are taking clinics from Prem Carnot in Costa Rica. He's your private instructor for the week.  You take lessons from him every morning, learning how to make your pickleball game better and be smarter on the court.  You get to pick his brain on different match situations that can arise in pickleball tournaments as well as recreational play.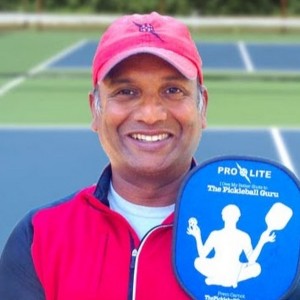 And after all this, you remember that you are in Costa Rica!  In a beautiful 5-star resort called Hacienda Pinilla with 3 private white sand beaches, 18 hole championship golf course, Beach Club (which you have free and unlimited access to with stay at our villa!), equestrian center, 12 restaurants and bars, mini market, and 4,600 acres full of biodiversity.  When you're on the courts playing pickleball, you'll literally see and hear howler monkeys and colorful parrots and parakeets!
You'll also have delicious food cooked by the Pura Vida House chef.  Some favorite dishes include Spanish seafood paella, rice and shrimp, fish or shredded beef tacos, Brazilian chicken pot pie (ah-mazing!), pastas, and typical Costa Rican "Casados", which are healthy dishes with rice and beans, salad, sweet plantains, and your choice of meat – beef, fish, pork or chicken. There are also lots of vegetarian choices, and the chef can accommodate any food preferences and allergies.
To top off the week, the villa owners and hosts – Jorge and Stephanie Morera – will help you plan your trip and be available throughout the week to point out all the fun activities there are to do around the resort that are unique to Costa Rica!  For all the activities, you will be using the Pura Vida House personal vans, drivers, naturalists and guides.  They have been working with the Pura Vida House Villa for 6 years now, so the owners know that they will treat all guests like family J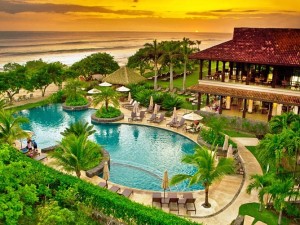 Some guest-favorite activities that you can experience include snorkeling, waterfalls and volcanoes, hiking in the rainforest to see sloths, massages on the beach, volcanic hot springs and mud baths, bird watching, biodiversity boat rides, experiencing local festivals and rodeos, zip lines (you've never done zip lines until you do them in Costa Rica!), sailing, fishing, horseback riding, giant turtle excursion at night (unbelievable!), ATV's, scuba diving … and much more!
Cost per person for this 7-night all inclusive pickleball vacation 2019 (March 9-16) with Prem Carnot is only $1,499 (double occupancy).  Small group of only 8 players, so very personalized instruction!
Prem Carnot and ourselves will do everything we can to make sure this is the most unforgettable pickleball trip of your life, not only improving your pickleball game, but also making sure you experience and see things in Costa Rica that you will remember and that will put a smile on your face … for years to come!
Looking for Pickleball Camps?

Book your dream pickleball camp today! Group options available!
Warmest regards from the Golden Coast,
Mani & Sindy
Costa Rica Rental Property & Retreats
Pura Vida House Luxury Beach Villa, Costa Rica – www.PuraVidaHouse.com
COVID-19 UPDATE: Seeking a Getaway to the Golden Coast? Starting in September, Costa Rica is re-opening its borders to several US states. Click here to see if your state is included!