Tamarindo Beach Costa Rica
Tamarindo Beach is one of the top spots to visit in Costa Rica – great surfing, restaurants and nightlife. But you also came to Costa Rica for it's rugged natural beauty and nature – stay at Pura Vida House for the best of both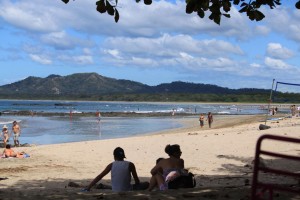 Tamarindo Beach must be the most popular beach town in Costa Rica, and one of the most popular ones in Latin America.  What used to be a sleepy local cattle town in the heart of Guanacaste province is now an international beach town full of restaurants, bars, surf shops, souvenir shops, arts, festivals, lively night life and much more!
A vacation in Tamarindo Beach will be great for sure, the strip is very fun, it's about a mile long and runs parallel to the Pacific Ocean.  There are plenty of good restaurants, bars, souvenirs and surf shops along the way.  Our favorite thing to do in Tamarindo though is people watching.  Tamarindo Costa Rica is quite the United Nations, with visitors and locals from all around the world.  Majority are Americans and Canadians, but plenty of Europeans and Asians as well.  If you go to a happy hour at one of the Tamarindo bars, you'll be sure to meet visitors from all walks of life!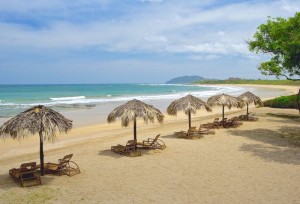 When you come for a vacation to Tamarindo Beach Costa Rica, consider staying at our Pura Vida House at Hacienda Pinilla Resort.  We're located only 6 miles away from the heart of Tamarindo Beach so you can stay in a quiet and tranquil setting (that's why you came to Costa Rica in the first place, right!), yet still be close to all the action!
We love living at Hacienda Pinilla though close to Tamarindo Beach, but not in Tamarindo. Main reason is we appreciate how tranquil, quiet and exclusive our resort feels, and our guests value that too. Hacienda Pinilla has 3 almost private white sand beaches.  You can go to any one of them any day, and chances are there will be less than 10 people total on a 1-2 mile long beautiful white sand beach!  There are not too many places like that in the world nowadays … it's truly paradise!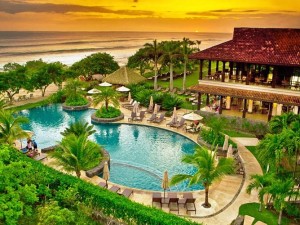 We also love all the amenities that Hacienda Pinilla has to offer, such as a Beach Club, 30 miles of hiking and mountain biking trails, tennis Costa Rica courts, pickleball Costa Rica courts, 12 world-class restaurants and bars, 18 hole championship golf course, equestrian center, mini market, a gated community with 24/7 security, and much more.  And to top it all off, plant and animal biodiversity at Hacienda Pinilla is unsurpassed!  You can't go outside our Pura Vida House villa, or be outside pretty much anywhere at Hacienda Pinilla, without hearing or seeing howler monkeys, iguanas, seeing colorful birds fly by, and perhaps seeing an occasional Tamandua anteater, our favorite for sure!
So there you have it, we love Hacienda Pinilla and being close to Tamarindo Beach Costa Rica, as we're close to the action and nightlife, yet away from it all, which is the main reason why we're in Costa Rica, and why most people come and visit Costa Rica in the first place – for the nature, adventure and tranquility.
We'd be very honored to host you at our luxury beach villa in Costa Rica near Tamarindo Beach!