Ways Tennis and Pickleball in Costa Rica are Different
I just flew down to Costa Rica a few days ago and definitely, playing tennis down here is different than back home in the US.
The first few weeks I play here in Costa Rica, I play at my good friend's place, the Conejo Tennis Academy in Alajuela, 2 minutes from downtown. They have 3 courts, 2 outdoor and 1 indoor. Most mornings at 7am we'll play 11-point baseline games, winner stays on court. All the friends that show up are life long friends of mine; we've known each other for over 30 years and grew up playing tennis soccer and golf together. This makes playing with them special. We'll play for an hour, and then talk afterwards for 2 hours, ha ha. And if we play at night, then we'll always make sure we have a few beers afterwards for proper body hydration!
Tennis is a wonderful sport, it helps keep alive longtime friendships, and whether you win or lose, teaches discipline and camaraderie.
And when we head over to Guanacaste in a week, then there's also pickleball to be played! We'll be playing at our 2 tennis and pickleball outdoor courts there surrounded by monkeys, anteaters, iguanas, and hundreds of colorful birds chirping non-stop. Truly a magical experience!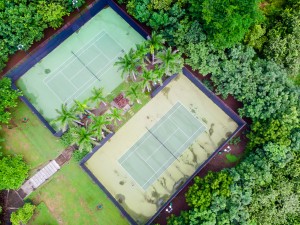 Howler monkeys will be 20 feet from the courts, sometimes on trees and sometimes even on the court fences, howling away, and paying close attention to what we're doing. The air is pure with nothing but nature all around. And to make it even more special, afterwards we'll ride our golf carts 2 minutes and get in the warm ocean water at Avellanas Beach in front of the Hacienda Pinilla Beach Club for a refresher after sweating a ton on-court. When we have tennis or pickleball guests at our Pura Vida House, we'll all play together and all as well, hit up the beach to enjoy like little kids in a candy store! Life's good!
Tennis and pickleball in Costa Rica are special, I sure hope to be able to keep on playing these great sports for many years to come, in Costa Rica, in the United States, or anywhere else around the world!
Book your dream vacation to Costa Rica today!
Warmest regards from the Golden Coast,
Mani & Sindy
Costa Rica Rental Property & Retreats
Pura Vida House Luxury Beach Villa, Costa Rica – www.PuraVidaHouse.com
COVID-19 UPDATE: Seeking a Getaway to the Golden Coast? Starting in September, Costa Rica is re-opening its borders to several US states.