Merging a fun sport with a beautiful location can lead to the most fulfilling vacation you've ever experienced. An active vacation is becoming more and more popular amongst couples, groups of friends, families with older children, and seniors alike. Everyone will bond over their favorite sport and sharing a new culture and overall experience.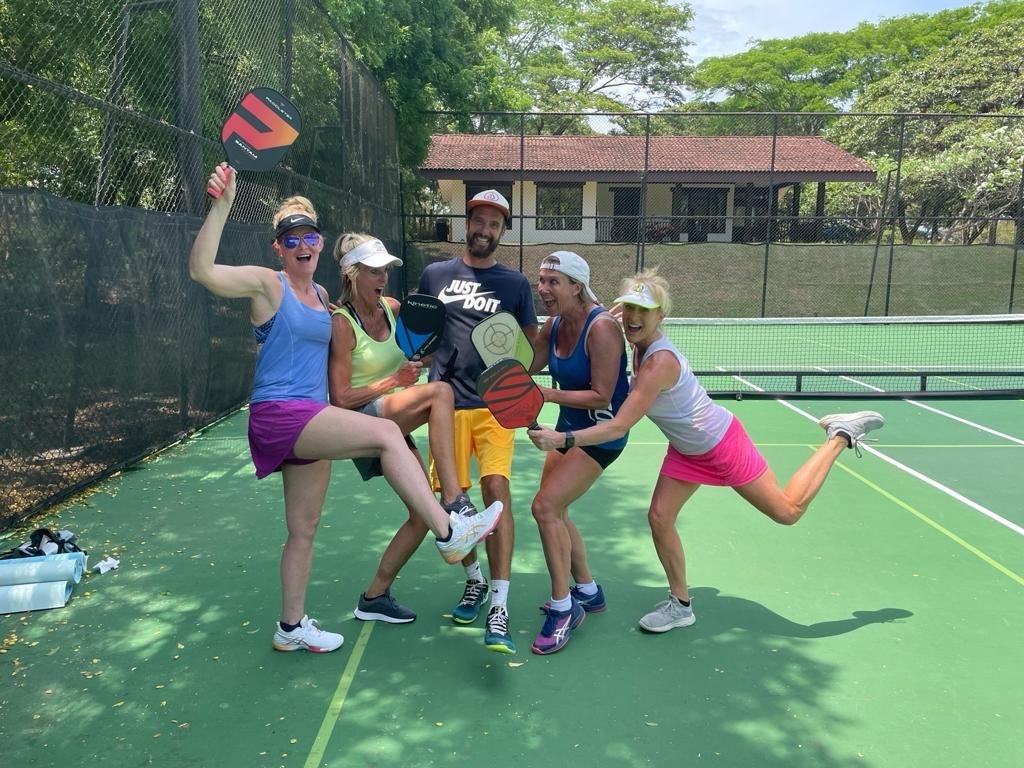 Pickleball
One active vacation idea that has been gaining fast popularity is pickleball camps for adults. Described as a combination of tennis, badminton, and ping pong all in one, pickleball is played on a badminton-sized court with the net located at the center at a height of 34 inches. Played with a plastic ball and what looks like large ping pong paddles, this sport is great for active seniors due to its low-impact and simple rules. And while the sport is most popular with those 55 and up, pickleball is fun for everyone. Beginners can easily learn the basics while more veteran players can have a fast-paced and competitive experience.
At Pura Vida House, we've become known for our all-inclusive pickleball camps for adults. You and your group will enjoy a seven night accommodation in our six bedroom, six bathroom villa located in one of the most exclusive resorts in Costa Rica, Hacienda Pinilla. You'll receive three hours at the pickleball court daily, located just steps away from the villa, where you can choose between open play, drills, or instruction. Our private chef provides you with a healthy and delicious breakfast and dinner every day of your stay. You will also enjoy three local cultural experiences. All of this and more plus our concierge services to hook you and your group up with whatever other activities you wish to do during your stay, are all part of the best all inclusive pickleball vacations in Costa Rica.
Our upcoming, all-inclusive pickleball camps for adults include instruction by pro pickleball coach Mark Price of The Mark Price Pickleball Club. This camp takes place June 18 to 25, 2022. Pro's Scott Golden and Megan Hall of Golden Boy Pickleball are the instructors for the next pickleball camp, which takes place July 2 to 9, 2022. If this sounds like something you and your friends would like to try, you'll have to act fast! All of our other currently planned pickleball camps are sold out for the year.
Check out all the details of our all-inclusive pickleball vacations HERE.
Tennis
Another popular sport at Hacienda Pinilla Resort, albeit more strenuous, is tennis. With two lit courts, professional instruction, and a tropical setting, you've never experienced an active vacation quite like this. While we regularly plan and host all-inclusive tennis vacation packages similar to our pickleball camps, all guests at Pura Vida House have access to the Hacienda Pinilla Resort club tennis pro Halais Sylvain. His 25 years of experience will help you improve your game with private lessons, semi-private lessons, group lessons, and more. Play or take lessons to your heart's content on two lit, hard courts.
Book your all-inclusive tennis and pickleball vacation with Pura Vida House!
Golf
If golf is more your game, you will be blown away by the world class Hacienda Pinilla ocean course, with its famous #15 Shark Hole. This 18-hole, 72 par course, is one of the best Costa Rica golf courses, with striking ocean views and so much nature it earned designation as an Audubon Cooperative Sanctuary for its preservation of the ecological balance. It's common to see howler monkeys, iguanas, parrots, roseate spoonbills, herons, and the unique Tamandua anteater bear while playing your round.  Guests at Pura Vida House get a great discount on the regular rate at the course. We can also offer unlimited weekly golf packages.
Book your golf vacation at Pura Vida House today.
Fitness Centre
There's even more to offer those seeking an active vacation at Pura Vida House and the world-class Hacienda Pinilla Costa Rica beach resort. The Hacienda Pinilla Beachfront Fitness Center is a great place to enjoy a full workout as you gaze upon the crashing waves, enjoy sunset, and get refreshed by cool ocean breezes. With a variety of cardio equipment, weights, benches, balls, and other top-of-the-line equipment, the fitness center also offers a variety of classes and personal training.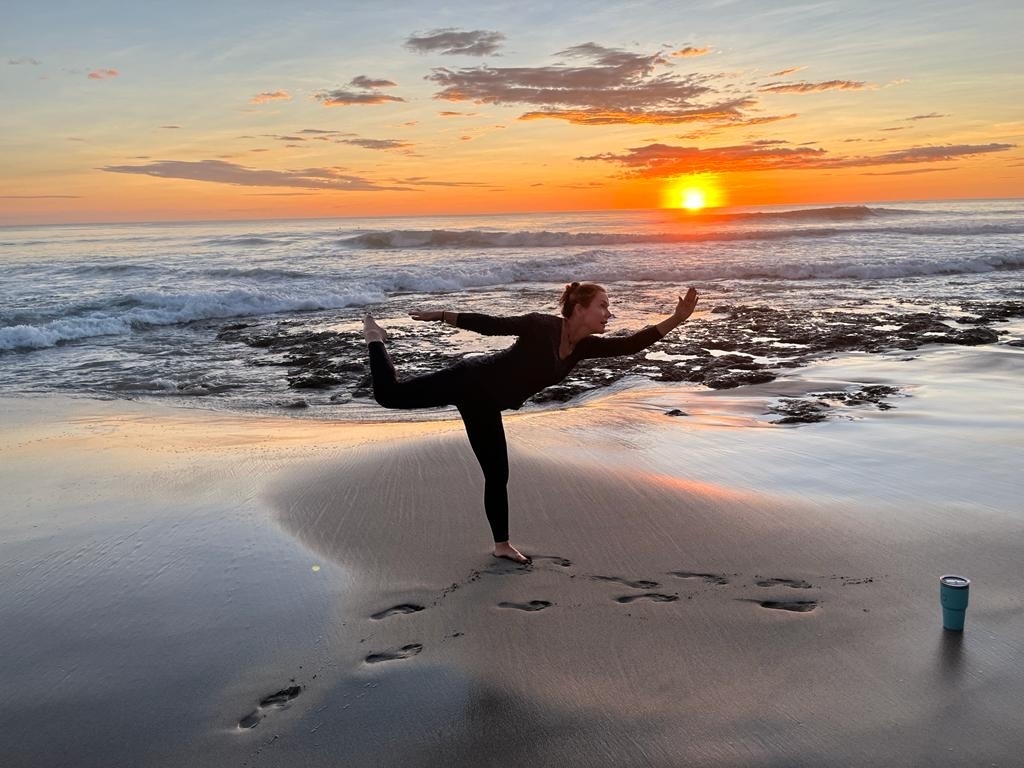 Yoga
Yoga classes are offered at the Beach Club gym, to which guests at Pura Vida House have exclusive access. You can even schedule your own private yoga session anywhere you like – the gym, the villa, or the beach! Whether you have chosen Costa Rica as your destination for a yoga retreat, or if you just want to get a couple hours of yoga in during your stay here, The Pura Vida House offers you exactly what you are looking for. Our yoga vacation experience includes professional and passionate instructors, a luxurious air conditioned studio with panoramic views of the Pacific Ocean, meditation sessions, aromatherapy, and freshly made organic meals. You can even relax at your choice of two full-service spas before or after your yoga sessions.
Read more about our yoga Costa Rica experience.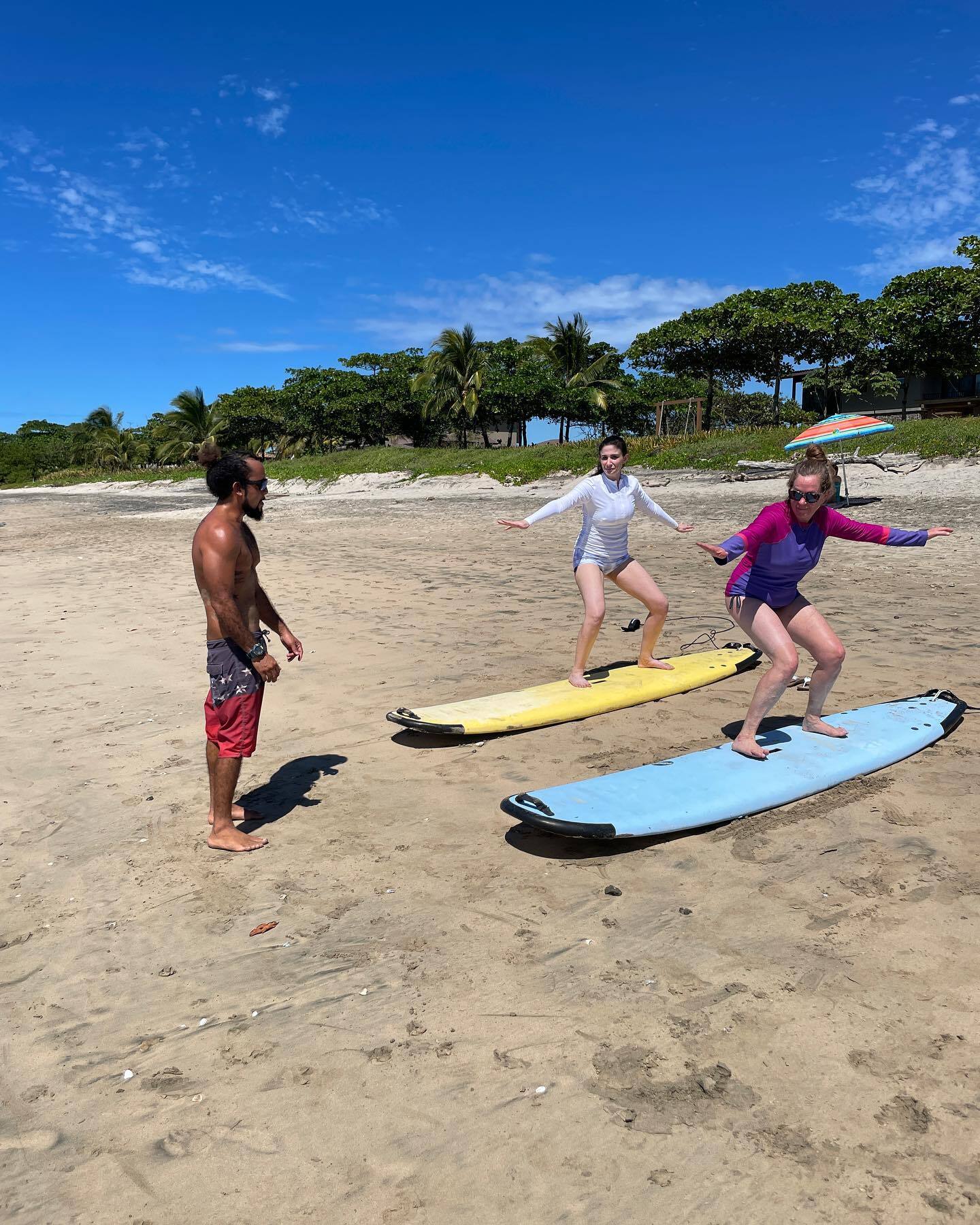 Surf
If you're the adventurous type, you may want to surf the world famous Little Hawaii break at Avellenas Beach, which guests at the Hacienda Beach Club have easy, front row access to. You can also take a surf lesson with one of our local pros at the resort-front Avellenas or Langosta beaches. Whatever your skill level, Costa Rica has a wave for everyone.
Mountain Bike
Last but not least, those seeking an active vacation will be amazed by the 45 kilometers of mountain biking trails located within the vast property of the Hacienda Pinilla Beach Resort. Whether you take it easy on the bike-friendly roads or try out their national mountain bike riding competition trails, bikers of all levels can experience the surrounding beauty Hacienda Pinilla Costa Rica has to offer.
Whether you want to plan an active vacation in Costa Rica or you just come for fun, Pura Vida House is the best and most personalized vacation experience with Costa Rica house rentals in the country. With access to the resort and Hacienda Pinilla Beach Club, 24/7 concierge services, personal golf cart access, shuttle services, and meals prepared by our private chefs, you'll see why we have over 400 5-star reviews! We will help tailor your active vacation, or relaxing vacation, exactly as you want it.
Please contact us with any questions you have if you are considering staying in Hacienda Pinilla Costa Rica. We are available at (614) 600-1904 or info@thepuravidahouse.com. We look forward to hearing from you soon!
Blog by: Jennifer LaCharite – Costa Consultants, International